We showcase the very best from local artisans and craftsmen.
Uniquely beautiful and stylish jewelry made locally.
Apparel and fashions accessories for women, men and children.
Everything you need to make a house into a home.
Children and adults alike love our handcrafted stuffed animals and toys.
We offer only the freshest local produce and delicious food items.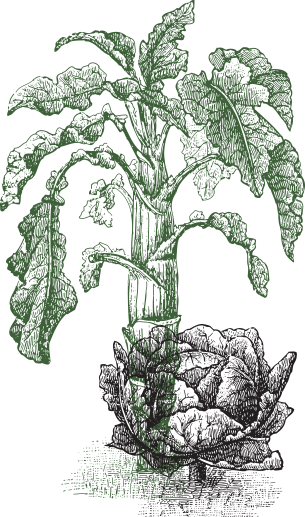 Pawleys Island General Store
A retail general store & market focusing on selling local foods and arts & crafts from talented local and regional artisans.
What began as a roadside market in 2010, the General Store was a notion in the mind of owner Mary Beth Pope a decade before. An advocate for animal welfare and Mother Earth, a vegetarian for 17 years, Mary Beth has always believed in eating local sustainable foods but had great difficulty sourcing local foods at area markets and restaurants. She owned a farm to table restaurant for several years, and after selling that in 2005 realized the area needed a local foods market.
That market started as a roadside stand and became not just a food market but the general store and local artisans collective.
Mary Beth believes wholeheartedly that bringing local and sustainable foods to her community, promoting talented local artists, and supporting local farmers is the best way to promote a healthy and fulfilling lifestyle through sustainability.
Our retail food market features the best local produce (our tomatoes are legendary!) take away casseroles & pot pies, grass-fed beef & pork and more.
Our artisan's collective features handmade & repurposed jewelry, clothing, housewares, linens, art, dry goods and more using local & sustainable materials.
Wooden bowls & utensils from native hardwoods, handmade linen dresses, fused glass ornaments, Sweetgrass baskets, birdhouses- we have something for everyone and every occasion.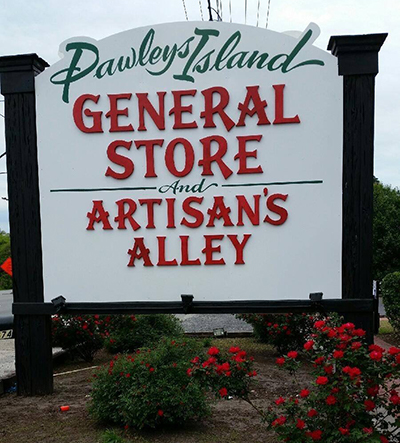 Welcome Sign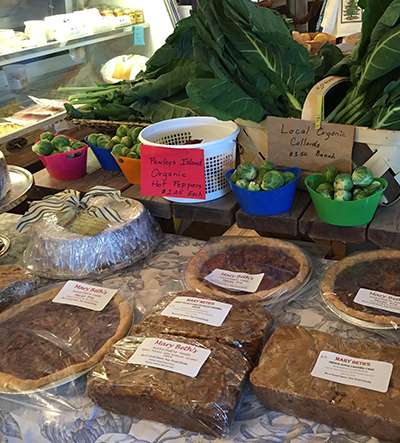 Prepared Foods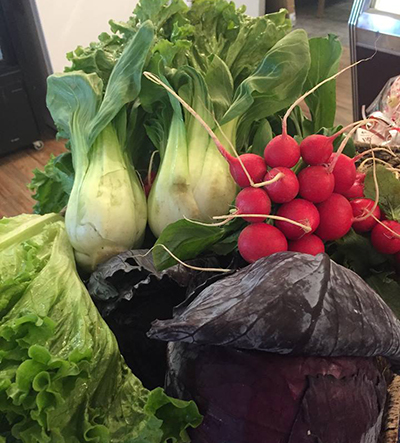 Fresh Produce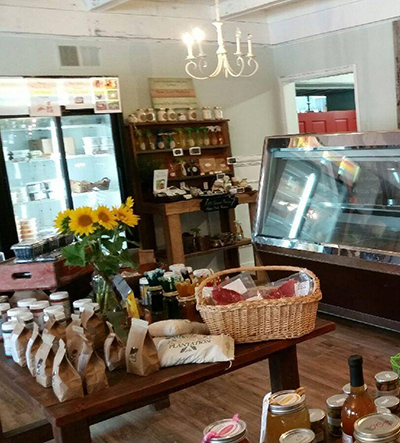 Grocery Items
What They Say About Us
Unique yet a country store! A must see. For vacationers a place for delicious homemade goodness to bake or reheat in your condo! Also jewelry, clothing, flags for the garden. Fresh local vegetables. I could go on.. but just see for yourself. You won't be sorry!
What They Say About Us
Had a little shopping spree at Pawleys Island General Store yesterday. If I have my way, I will never eat another egg that doesn't come from Mary Beth Pope . Also, I just cooked my first Grass Fed Roast in the crock pot, and all I can report back is yummylicious!!!
What They Say About Us
A must stop...excellent southern low country hospitality with unique art, jewelry, and fabulous cooked goods! My most favorite things have come from this absolutely wonderful shop... love these folks!